I did not know what to expect when I first set foot on Stetson's campus.
I had an infinite number of worries, including but not limited to: not making friends, not being smart enough, not being a good enough writer, and finding out that I had actually been accepted by accident.
Now that I have (almost) completed my first semester, I feel much more at home on Stetson's campus. It's been a weird semester because of COVID, and I picked a strange time in history to go back to school. Nonetheless, I have grown so much as a writer and as a person in just this one semester.
I cannot say that I learned a lot about how to write. But I did learn a lot about what to write. At the beginning of the semester, my Personal Essay professor asked us what our goals were for her class. Mine was to find and refine my own voice. All too often, when I sit down to write something, I get so caught up in how I want it to sound that I become paralyzed and can't write a single word.
Writer's block is a real thing, and that's important for me to remember because I often attribute a temporary inability to write to mental illness. The reality is, every writer experiences creative blocks from time to time. There's another major lesson for me right there: I'm special just like everyone else. At the beginning of the semester, I was sure that I was too different, too damaged, too sick, and even too old to fit in with any of my classmates. Initially, I proved myself right by not interacting with anyone outside of class discussions. All it took was for me to say, "How was your weekend?" one Monday afternoon when another student and I were alone in the classroom waiting for our professor to arrive. We discovered that we had quite a bit in common, and we even have an inside joke now.
---
I have a hard time believing in myself. Nearly every night as I'm falling asleep, I think, "I might as well just drop out now. Everything I write is garbage…" and on and on. I don't know who this late-night-Katherine is, and why she feels the need to undermine all of daylight-hours-Katherine's hard work, but it's super annoying. For this reason, I am attempting to get myself back on a semi-normal sleep schedule to maximize my daylight hours. When I wake up in the morning, I feel okay about myself and my writing.
When I can't believe in myself, it helps to have someone else do it for me. This is where my favorite professor comes in. Professor R. teaches The Personal Essay and a few other classes (including Poetry Workshop, which I will have with her next semester!) and she is one of those rare and special people with a gift for teaching. Before my classes were all moved to Zoom, I would come to Professor R. with questions about the class readings or assignments. I really just wanted to pick her brain about publishing, being a non-traditional student, and her writing process. When she told me that her forthcoming book is a collection of poetry about watching someone close to her go through a psychotic episode, I knew that she was a kindred spirit.
Professor R's class gave me both the structure and freedom I needed to expand my comfort zone and push my own creative limits. There were a few major essays we had to write and then "radically revise." One of my essays turned into a video, another turned into a canvas. The video, "You're Not a Bad Person," is actually forthcoming in an online magazine titled The Perspective. Once again, this is because Professor R. believed in me and suggested I send it to that particular mag.
This is the canvas that was originally a photo essay titled "Long Live the Problem Child." It includes various artifacts from my life such as AA tokens, screenshots of conversations with my artist friends, and a photo of me as a little girl. I would have never created something like this if it hadn't been for this class. But I'm glad I did!
---
Peer reviews are a wild ride. I love to be told how good I am at writing. Who doesn't like positive reinforcement? However, if I am going to improve, I need to know what my weak points are. All three of my classes have a peer review element this semester. One of them is an English elective, so there are a lot of non-English majors in the class. I turned in four poems for an assignment, and all fifteen of my classmates shared their thoughts.
I am not an #instapoet. I do not write like Rupi Kaur (see below). It's an unpopular opinion, but I just don't enjoy poetry that reads like an eighth-grade diary with random line breaks. In my personal opinion, poetry should have layers, it should be a little esoteric, a little bit challenging.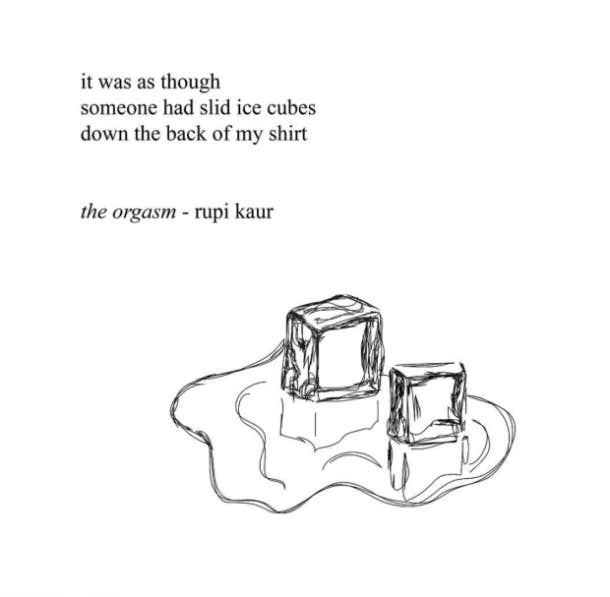 That being said, I would not necessarily characterize myself as a good or talented poet. I may have had a decent poem here and there, but I am mainly a prose writer. Still, I do know good poetry when I see it. The first poem of the four that I turned in was titled "Men and Other Dangerous Animals." I was writing from a place of pain and anger, my metaphors were all mixed, and it was just a messy poem. Nearly all of my classmates thought it was about a woman losing her loved one in a motorcycle accident. This is the poem:
Furtive glances
into the eyes
every motorcyclist
man waiting for the bus
and/or
rabid dog
I wanted you to ask
I wanted to ask,
"Was it you,
or you,
or?"
That mass of
filthy hair,
fringes on the rug under which
the ashes of some noncompliant girlhood lie,
and yet
every cemetery holds
at least a few
who were not quite ready
to go.
If I found you
wrapped around a tree,
if I could be the one to say,
"Why
weren't you wearing
a helmet?"
Or, "Were you drinking?"
I still can't make you
give it back.
I can see now that this poem makes very little sense. I think the fourth stanza is strong, but the rest needs work. My professor for this class said that if most of my readers were confused about a certain element of the piece, then it needed to be clearer. But what really got to me was that one male student felt the need to comment that I was unfairly characterizing men as dangerous animals, that women "can kill too," and that I was taking cheap shots at men.
At first, I felt bad. I am a people-pleaser to the extreme. I hate confrontation, I hate upsetting people, and I hate telling people no. Then, it occurred to me: if I am going to be a professional writer, all kinds of people are going to read my work and not everyone is going to like it! So this was good practice for me, in a way. Resolving disagreements is a part of life, whether it's telling a customer that they misread a sale sign or a heated debate in a classroom. The point is that I made someone feel something.
Right now, I am going to allow myself to be selfish and focus on my creative endeavors. I have been submitting essays and poetry to various magazines. As Professor R. keeps reminding me, just because a piece is not accepted doesn't mean it's bad. It just hasn't found the right home.